Sri Lanka v New Zealand, World T20 2014
Sri Lanka got mauled over by the English four days ago. It was a loss of despair and disappointment. They posted the highest first innings score at Chittagong. The English provided them with an unlimited supply of dropped catches, and got Mahela and Dilshan some runs against their names. Then, Mendis got hammered out of the park multiple times and Sri Lanka lost. Mendis will be dropped for the next game. Just at the right time.
Sri Lanka's over rate has been slow for two games, both South Africa and England. Chandimal had already been given a warning, but in all honesty, those two games went right down to the wire, Chandimal wouldn't have had it any other way. He's a brave captain. A captain with gambles up his sleeve. He would rather buy his time to conjure up a win than rush through the overs to save his grace. But regardless of how much daring Chandimal is more than Mathews, and probably even Sangakkara as a captain, his batting form has been woeful and his place in the team was merely as a captain passenger. After the England game, Chandimal was handed a one match ban. He too will not play against New Zealand. Just at the right time.
Malinga tossed the coin. Lost. Sri Lanka were put in. Malinga listed the whole bench before he could remember who was in the playing XI. Herath and Thirimanne were IN; the right place at the right time. Sri Lanka collapsed, not dramatically, but very progressively. If anyone had followed Sri Lanka in the past 2 to 3 months, they would have seen this coming. Sri Lanka has an extremely volatile batting order that fluctuates between extremely impressive like Sri Lanka at the 1996 World Cup and horridly poor as England at the 2013/14 Ashes and such collapses are never few and far between. But somewhere during the midst of it, Thirimanne and Mahela forged close to 50 runs between each other. Thisara and Sachithra provided some desperately needed boundaries towards the end, and without even batting out the full qouta of overs, Sri Lanka huffed and puffed to 1-1-9. The phone lines rang, went to a recording, then to voice-mail, then to a few more recordings. And finally, Rangana Herath picked up. Just at the right time.
In 21 balls, he turned the match on its head. 18 dots. 3 runs. 7 wickets; 5 for him self plus 2 run outs. He single handedly gigantisized 119, as opposed to how Ajantha Mendis microscopified 189. And not for the first time in recent history, he came in to the team from practically wilderness and saved Sri Lanka's pride. To compliment Herath's timely return to the side, Sachithra churned out his tight loopy offies and took out the rest from the other end. Malinga, Kule and Mathews kept a lid on the runs. Thisara Perera enjoyed his day in the field. Mahela made the drafts, Sanga drew the blue prints, Dilshan added his aggressive touch, Malinga was humble enough to let the seniors handle it and Sri Lanka, through an absolute gem of a team performance in the field, made it through to their umpteenth world cup semi final.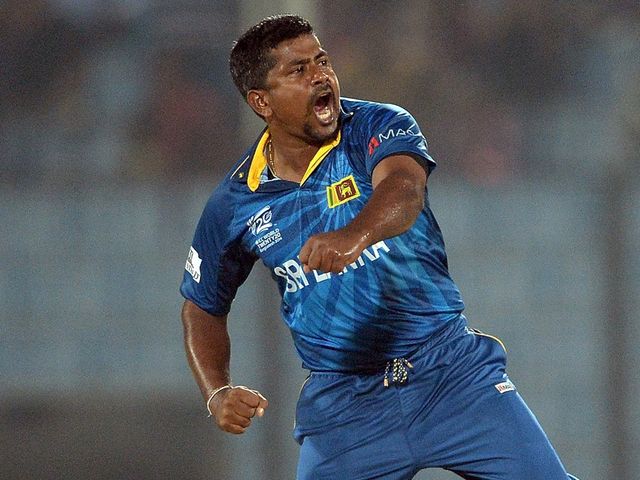 If Herath ever decides to get a tattoo
there won't be many more appropriate lines than "Better late than never" .
After being the pre-tournament favourites, and being rather mediocre against South Africa and England, Sri Lanka needed this. In order to realize their true stance and potential, Sri Lanka needed all of it. A thumping loss to put their egos in place, changes to the team that fine tunes the proceedings, a batting collapse to keep the batsmen humble, a test for the bowlers who couldn't defend 189 and a moral boosting victory that injects valuable confidence before the start of the semi finals; Sri Lanka needed all of it. And it was a victory that was needed and delivered, both at just the right time.
As much as Sri Lanka as a team needs confidence, Sri Lanka as a cricketing nation, as fans, need humility. For a team that has lost four world cup finals out of four consecutive appearances, humbleness is of the essence. Sri Lanka aren't by far the best team in the tournament, specially compared to the likes of India, West Indies and even at times Pakistan. The rise of India and the gentle fall of Sri Lanka, might still be the best thing that could happen to Sri Lanka, not to go in as red hot favourites with less pressure. Nevertheless, Sri Lanka have gone in as underdogs, as equals and as favourites to world cup finals, but there has been no addition to the cabinet since Arjuna sealed it in '96. And such losses have made me immune as a fan, as to how much hope I have towards Sri Lanka winning a final, for as of now and I've said this before and I'll say it again, supporting Sri Lanka to win a world tournament is like supporting Stoke City in the Premier League; you don't cry when you lose because you sort of expect them not to win in hindsight, but if they do win, the joy is beyond that of any United, Chelsea or Arsenal fan would ever know. Therefore, the semi final, may it be Pakistan or West Indies we play against, for me would be another chance to see Sanga-Mahela bat in a T20, and a win will only be a bonus.
After such a timely spirit raising win, Sri Lanka's cricket team needs to leave that past and those memories behind them and be a ruthless side that terrorizes anyone that comes between them and the trophy. But the same does not apply to its fans. At least until the trophy is won.
Adios,
Kumma