It's been four months since I posted anything here due to being over-worked with my studies, and after seeing the back of my last semester exam, I'm free for another four months to combine the two things I enjoy the most; Cricket and Writing. A hell of a lot has happened since I last posted here and there's a bit of time before Sri Lanka start any international cricket, so let's use that time to catch up what I've missed for the past few months in the cricketing side our beautifully disfigured little island.

Sri Lanka ended the year 2012 in the lowest of lows, losing the boxing day test by an innings and another heap of runs. Then they went to Sydney for the new year's test and stumbled further to give away the series 3-0 to a limping Australian side, who literally walked all over Sri Lanka on one functional foot. The one-dayers gave more promise to us ever supportive fans, with Sri Lanka winning 2 and losing 2, and having almost won the series in Sydney before the rain and a questionable call by the match referee intervened. Then, under the captaincy of Angelo Mathews, the team took the two match T20 series 2-0, with the last game ending in a nail biter and also a bit of drama at the end involving Mathews, Mahela, Thisara Perera and Glen Maxwell. Although Sri Lanka were beaten, clobbered, stomped and humiliated for most part of the tour, the two T20 wins gave a much needed icing to a horribly cooked and burnt cake, which covered up for the mess which it in reality was.
At the end of that series, Mahela stepped down as the captain, once again vacating the spot at the right time for him self and the team. Sadly, this time his predecessor does not seem as capable enough as the first, to lead an under performing, talented yet mentally fragile bunch of individuals and to mould them in to a fit, strong, fighting team. The task is a lot harder, and the fact that the leader is below par doesn't help the cause at all either.
The lack of team work, tactics, strategy and guile was show cased in the Test series against Bangladesh which followed. Sri Lanka struggled to get a grip of the first test, on a road of a track. The roads that lead to the ground probably looked less levelled and flat and hard as much as the one that was laid at the centre of it. Then they struggled to win the second and last one, but managed to scrape through with the help of an ageing Rangana Herath, who at the end of the test had a look as if to say, "Getting real tired of your sh**, guys. Time to find more bowlers to win you games, or else just name a team with 10 batsman and me." The revamp of the selection panel although, which now included Sanath Jayasuriya, Hashan Tilakaratne and Promodya Wickramasinghe seemed to have paid off, with the inclusion of fresh blood in to the team which had started to look like a gathering of grumpy old men by the end of the Australian tour, with most of the young guns performing, exceeding expectations, with the exception of a few.
With the inclusion of new faces in to the team, seniors such as Mahela, Thilan and Prasanna had to sit out, which had meant that Test specialist Thilan would have to wait till the December of 2013 to be in Sri Lanka colours again, prompting him to retire from international cricket and pursue a career in County. Just as many of his batting records, his retirement too went unnoticed, with a few reminders here and there that he had retired from the game. And just as he had done so many times in the past, he had come to the crease, accumulated runs swiftly, made a score that supported the team to get in to a strong position, and had left when it was time to go. Quite a fitting end, to the over achieving, under rated, off spinning prodigy that was once ear marked to replace Muttiah Muralitharan in the Sri Lanka team, who ended up making a name for himself as Sri Lanka's wall, a position which did not exist in the Sri Lankan test line up until he had established it, and a position which will not be existing as of now, after his retirement.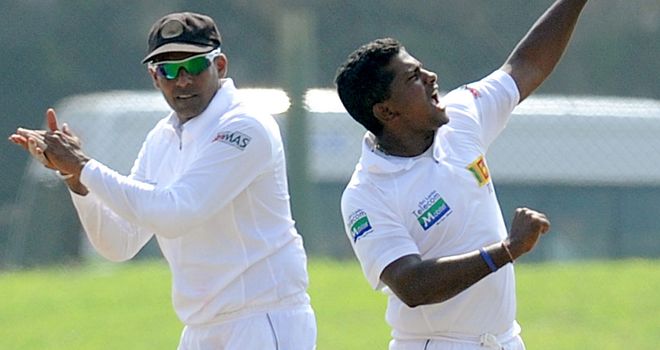 The end of the Bangladesh Series summed up two careers. Thilan's "I'll just handle my side of business and leave unnoticed", and Herath's "I have to do everything on my own around here." Both of which were pleasing, heart warming as well as fear inducing when thinking about the future.

A lot more has happened since then. The IPL has started. All three Sri Lankan captains have faltered. Apart from Malinga, Thisara and suprisingly Sachithra Senanayake, every other Sri Lankan player has looked out of place. More on that on my next post, along with a preview for the Champion's Trophy.

Nice to be back here again,
Honestly, feels like I'm doing what I'm supposed to be doing.
Until the next post;

Adios!