Bangladesh v Sri Lanka. Day 4. 1st Test. Dhaka
If the last test that Sri Lanka played was any indication as to why over conservatism and negativity can make you lose games from positions you could win, Bangladesh re-assured Sri Lanka's safe-play methods by showing exactly how over confidence and positivity can cause in self destruction. To a keen student of the game, both games were lessons of how cricket, being the funny game, is a matter of handling different situations with different approaches, with the balance of the two extremes being the most decisive factor. Bangladesh though, just didn't seem to find a single gear between neutral and top. Looking back the scorecard, it might even seem that they were on reverse at some point.

There are two ways to go about the game when you are almost 500 runs behind and have two days to bat out for draw. The more common and sensible approach would be to tire down the opposition, putting a price on one's wicket, and frustrate the opposition bowlers with every dying minute. Of course, you might ultimately get one with you name on it, specially on a deterioration pitch like that, but at least you are making sure the bowler needs to work hard for your wicket. Only then could a team take the game to the 5th day, and give themselves a chance of defying a victory for the opposition, by means of weather, at least. Even if you had lost, the opposition would have had to earn it.

Or there is another approach. The approach Bangladesh took. The same approach we saw from England, in the 4th innings of the final Ashes test. Bangladesh might think they batted as if they had nothing to lose, but it only looked like they batted as if they had nothing to gain. Wickets were gifted at times Sri Lanka didn't even look threatening. Shaminda Eranga's bouncers were made to look like Mitchel Johnson on a Perth wicket, while Suranga Lakmal's reverse swing was played as well as the Aussies played Simon Jones in '05. Dilruwan Perera's flat, straight "off breaks" were treated with the fear and respect that Murali would get on a 5th day dust bowl at Galle. Bangladesh made everything look so much harder for themselves while making everything looks much easier for the Sri Lankans. They just went on self destruct mode. It was Hara-Kiri. Suicide, to the point where it's not hard to find irony in the fact they call themselves "The Tigers".
To be fair to the Sri Lankan bowlers, they did bowl in good areas consistently. The fast bowlers used the short ball to good effect in the first hour, particularly Shaminda Eranga, who seems to know just where it is most uncomfortable for a batsman when he needs to pitch it short. Lakmal was exceptional with the old ball, getting it to tail in considerably. If he could keep the skill and fitness at this same level, he's going to be a handful with that Duke ball in early summer conditions in England. Dilruwan bowled four rubbish balls an over and the Bangladeshis were generous enough to hand him 5 wickets in the other two good deliveries he bowled per over. Although credit needs to be given for his maiden 5-wicket haul, he will need to improve on his consistency if he is to prove an able partner to Herath, for taking 5 for 100 in 20 overs, out of a total score of 230 will just not be good enough against better sides.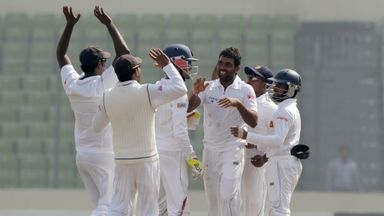 Instead of getting much purchase "from" the wicket,
Dilruwan's approach was to purchase wickets for the trade of runs.
Although Eranga's bouncers, and Dilruwan's straighter one and the whole end to the match seemed much quicker than expected, Sri Lanka will take many positives from this game. Kaushal's solidity and Kithruwan's flamboyance, Dilruwan's ability to take wickets out of nowhere and the fast-bowlers' consistency will be things they will look to emulate in the rest of the tour, and also take with them to England where things are expected to be severely tougher. Although Bangladesh may be the worst yardstick available in the Test arena to measure any sort of performance, specially with the sort of attitude they played the last game, runs scored remain to be runs recorded and wickets taken will always be wickets tallied. No matter how unfair, or mismatching or minnow bullying one would like to call it;

A win is a win.

Catch you before the next game.
Adios,
Kumma