ICC Cricket World Cup, Australia & New Zealand, 2015
The 2015 ICC Cricket World Cup will be the last world cup for many of Sri Lanka's recent legends. With the obvious ones of Mahela Jayawardane, Kumar Sangakkara and TM Dilshan, once you start noticing the ages of the rest of the team, it is a quick realization that this would also be the last world cup for Rangana Herath, Lasith Malinga and Nuwan Kulasekara. But world cup or no world cup, we would still probably be fortunate to see all these players in the national jersey for a few more games after the conclusion of the world cup, Dilshan having already stated that he hopes to continue playing ODIs and T20s, and Sanga being pushed by Angelo Mathews to continue in Tests for another year, at least. Everyone, but Mahela Jayawardane. The last match Sri Lanka play at this world cup will be the last international game Sri Lankan fans will see their uni-browed, baby-faced, down to earth yet sometimes grumpy, immensely talented hero in National colours. When the last ball of the last game Sri Lanka play is bowled, the Mahela Jayawardane epic will most certainly end.

Mahela's career has been highlighted by many wonderful records. Highest individual test score for a Sri Lankan, partnering with his mate Sanga to bring up the world's highest partnership for any wicket in the same game, scoring more hundreds at a single venue than any other batsman, and even becoming the first Sri Lankan to score international centuries across all formats, his records are merely a highlight as to what this man has truly achieved as a Sri Lankan on the world stage. But his most interesting record, one he has lost in recent years, is something for statisticians to die for. From 1998 to 2011, Mahela scored 13 ODI hundreds, all of which resulted in victories for Sri Lanka. In the 90s when Sri Lanka's wins were determined by how many runs Sanath Jayasuriya scored, to the 2010s when the probability of a Sri Lankan win were dependent on how long Sangakkara would stay at the crease, Mahela's contribution to Sri Lankan wins during that middle period usually goes unnoticed. Specially, the ones in chases. In big chases. Chases that require more than a run a ball, with less than 5 wickets in hand. Mahela's been part of many such chases. But if I were to pick my top 3 of such chases, all three would have one common factor other than Mahela; His partner.
Until the century he made at the 2011 World Cup Final,
Mahela had scored 13 ODI hundreds and all of them had resulted in wins for Sri Lanka.
In the late 90s and the early 2000s, when Sri Lanka were 5 down, and needed 6 an over to win the match, Mahela being there till the end was simply just not enough. Sri Lanka had a long tail. They didn't have the likes of an Angelo Mathews to come in and finish the innings with a sensible innings. Nor did they have the luxury of a big hitting Thisara Perera who could bring the required run rate down to 3.5 in a matter of 12 balls. But they did have one man. A slender, enthusiastic bloke from Galle, who took more pride in his fielding than his bowling or batting, who boasted of a record of being the only sub-continental spinner to take a 10 wicket haul in Australia, who hit bowlers out of the ground with sheer timing, and a variety of innovative stroke-play. bowled leg breaks that made Shane Warne proud, and took catches that defied gravity; Mahela's perennial partner in chases; Upul Chandana.
Maiyya and Upula's partnership goes back way before Sanga even made his debut as a Sri Lankan cricketer. It goes right back to Mahela's first ODI century, in a game made famous by Ross Emerson calling Murali for chucking, and Arjuna Ranatunga leading the team off the field in protest. Sri Lanka vs England at the Carlton United Series in 1999 at Adelaide was a game marred by controversy. On top of the no-balling and boycotting, Alec Stewart, Darren Gough and Roshan Mahanama got them selves in a verbal pickle during the chase as well, and it was only fitting that Murali had the last laugh by scoring the winning runs. But much before Murali took his revenge, the chase of 303 for Lanka's win was shaped through two magnificent one-day innings. At the time, just 21 years of age, young Mahela Jayawardane strolled out to the wicket at 8 for 2, in the 4th over. He watched Jayasuriya race to 50 in 30 balls before he too gave it away. Hashan and Arjuna provided him experienced company and playing an innings of class, with masterful stroke play and more importantly one of great character and the ability to absorb pressure, he brought up his first one day century before the two of them departed. They were followed by Chaminda Vaas to leave Sri Lanka at 235/6 in 42 overs. Mahela was in, but with 68 needed in 8 overs with only 4 wickets left, he simply had too much to do on his own. That was when Upul Chandana joined Mahela. With Mahela timing the ball crisply, Chandana taking charge to the English bowlers, they put on 34 in 22. Chandana gave the impetus the Sri Lankan inning had lacked since the departure of Jayasuriya. Mahela was dismissed for 120, a first of many match winning hundreds, but Chandana continued to marmalize the English, taking Darren Gough to the stands with a massive six over midwicket. By the time Maiyya and Upula were done, Sri Lanka needed only 15 runs in 15 balls, having reduced the gap between run and balls left by about 20. At a time when 300 was deemed unchasable, Maiyya and Upula had helped Sri Lanka accomplish the impossible. Together they had committed day light robbery, and it was a first of many to come.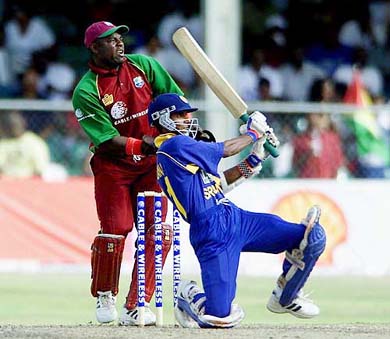 Upul Chandana is an unlikely big hitter. He is an unlikely match winner.
Most of all, he's the most unlikely player to have partnered up with Mahela,
in so many successful run chases.
5 years later, in Bridgetown, Barbados, Sri Lanka were chasing another 300+ target against the West Indies. Earlier Brian Lara had ripped the Sri Lankan bowling line up shreds by making a faster than run-a-ball hundred helping the West Indies to a total of 312, and at 192/4 in 35 overs, the Sri Lankan chase was all but over. Chandana having been sent in at number 5 as a pinch hitter, was joined by Mahela who came in at 6, needing 130 runs in 90 balls to win. Together they put on 101 in 13 overs, Chandana scoring a whirlwind 89 with 6 fours and 4 sixes. Mahela didn't score a single boundary, but made a vital 32, knocking the ball around, and giving Chandana the strike to carry out his onslaught, a knock that probably still is one of the best One Day innings by a pinch hitter, promoted up the order to run havoc, during a chase. Once again they had come together to pull off heist, and again they had done it away from home, taking it to those who had called Sri Lanka "home tigers" at the time. 5 years ago, Mahela had won the man of the match award for his 120 in the chase, this time, the award was Chandana's. But the two of them, and everyone else in the ground, and everyone who watched both games, knew that it was their coming together in both games, that turned the game in Sri Lanka's favor.
But their best partnership together didn't come in a massive chase. It came on a slow pitch in Dambulla, during the Indian Oil Cup triangular series in 2005 against India, chasing only 220. Sri Lanka were 95/6 when Chandana joined Mahela. This time, they didn't need to chase at over a run-a-ball. They didn't need to attack They needed 125 runs in 25 overs with only 4 wickets in hand, and Maharoof and the two fast bowlers to follow. They needed to bat sensibly. On a windy night in Dambulla, under lights, lots of dew from the lake, in swinging conditions, and a wearing pitch, Mahela and Chandana, slowly pulled off a win right from the jaws of defeat. And what's more, this time they finished the game together. Mahela made a memorable 94* and Chandana; a mature 44*. They had come full circle. From Adelaide, to Bridgetown to Dambulla, together they had conquered and mastered all types of chases, In a time when Sri Lanka were done when Jayasuriya got out, Maiyya and Upula had taught the Sri Lankan public that it's not over till they had their say, and they had done it multiple times, to prove that it was no fluke. In the hearts of the passionate Sri Lankan cricket followers. they had become the ultimate partners in chases. While there is not argument that Sanga is the tonic to Maiyya's Gin, it needs to be remembered that Upula was the "chase" to Maiyya's Scotch.
Sanga-Maiyya would be the partnership the whole world would remember.
But the Maiyya-Upula adventures hold some of the best ODI memories
for the Sri Lankan cricket fan.
16 years have gone by since the day they pulled off their first heist together, and it has been quite a while since the unlikely chronicles of Maiyya and Upula have joined Sri Lanka's cricketing folklore. 4 illustrious world cups later, Mahela has decided this would be his last. Chandana has called it a day for quite a while now, and he will join the likes of me and us fans in tuning in to watch Mahela make at least one more match winning hundred. To Chandana, his unlikely partner in chases, and to me, as Chandana and Mahela are my two favorite Sri Lankan cricketers of all time, it would be a gift from the gods above if Mahela could chase down a big score in Australia for one last time, 16 years later, in the very land he announced him self to the world.

Fingers crossed,
Kumma