Royal College 1st XI vs Wesley College 1st XI at Campbell Park
Wesleyite pacer Helitha Bambaranda floats one on a full length to the left handed Geeshanth Panditharatne, teasing him in to a drive, dangling a carrot outside off, looking for the edge. The red ball is only 9 overs old, and the Royalists are already two down for not much, yet the Royal skipper does not hesitate in leaning in to a cover drive and dispatching the ball to the grass banks of Campbell Park. There is a touch of poetry and majestic elegance to the whole ordeal. It's 10.30am in Colombo and midnight in Waterloo, Ontario. After a combined total of about 15 hours through the whole week, I find my self staying awake, staring in to my laptop screen. Because March Madness is here, and the games are on!
Sri Lanka's love for the timeless game, through the ages, has been one of fantasy and fairy tale in nature. From the streets and ally ways to the open paddy fields, there is no lack of abundance in the number of games of cricket being played in the island. May it be hardball, or softball or even at times with a piece of paper rolled in to a rather odd spheroid, cricket is played and loved with a passion that even the inventors of the game can often be jealous of. But Sri Lanka's love for school cricket specifically, is a whole other romance novel altogether.
Let alone the one bump games in the class rooms and interval cricket carnivals, age group level cricket in Sri Lankan schools play a major role in building School spirit and enhancing comradery, not only with those within, but with also with those in other schools. The papare bands, the flag flutterers and the flag flickers, the cycle parades, and the crowd packed big matches, all have added unique essence to this story of utmost passion and love for both cricket and for Alma Mater. From age group level ranging from under 11s to the under 19s, cricket is by far the most competitive sport at school levels as well, and easily the most watched and followed. School boy cricketer of the year awards, college colours awards, and big matches highlight a school boy cricketer's career, while drawing awe from his school mates, creating heroes and legacies that even outlive the cricketers themselves. Therefore there is no question as to how much enthusiasm and hype there is created towards the month of March and the "Big match season". To an avid cricket fan, and to the school boy and old boy alike, there is much to look forward to.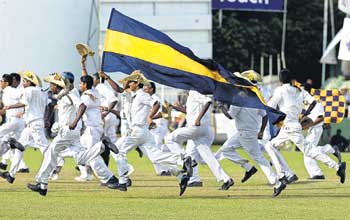 A school cricket match in Sri Lanka could not be anymore different than just a regular school cricket match.
It is so much more than just a school event.
And it is even more so much than just a cricket match.
Young Pasindu Sooriyabandara is only 16 years old, and already he's laid a premise as to what sort of prodigious talent he holds, notching up two centuries in his debut 1st XI season. He gets one rising right around his nose which he rocks back and hooks towards the boundary. The fielder at fine leg runs across, puts in a full length dive and gets his hands to it, but cannot hold on. The ball rolls in to the ropes. Cricket is a game of such fine margins. A couple of years ago young Pasindu would not have dreamed of playing in front of camera's and his name being mentioned in live commentary. Certainly, not before the big match, at least. But Sri Lanka's love for school cricket has grown so much that the desire to see more school games has been timely fed with live streams and ball-by-ball commentary, not just in the big-matches but also in a selected few regular season matches. Pasindu gets out in the next over. His story has only just begun, and he has a long way to go. But one thing is for certain, he has made massive strides in his path. And with the introduction of the live streams, so has schools cricket in Sri Lanka.
How lovely it would have been, a couple of years ago, to see some of these regular season games at the touch of your fingertips. Big matches feature the biggest schools and the biggest rivalries, but sometimes, the best in game rivalries between players, are not necessarily in the big matches them selves. A 2009 Ananda College vs Trinity College would have featured two of the best schools batsmen at the time in Dinesh Chandimal and Udara Jayasundera up against arguably the best spin bowling duo at a school level since Piyal Wijetunga and Muththia Muralidaran, in Rushan Jaleel and Akila Jayasundera. Or a 2010 game between Royal College vs St. Sebestians' College, which would have featured the Sri Lanka u19 top order of Bhanuka Rajapakse, Kithuruwan Vithanage and Ramith Rambukwella, tussling it out against the Sri Lanka U19 pacemen Sanitha De Mel and Vishwa Fernando. The legend of the superstar all rounder that never made it in the national circuit, in Wesley's own Ryan Kern. The 1000 runs and 100 wickets double of Shameera Weerasinghe of St Josephs. Don't even get me started on the St. Peter's lot. Angelo Perera, Shevanga Ranasooriya, Chathura Pieris, Akshu Fernando, Andri Berenger and all the rest of them.
A Sri Lankan's love and loyalty towards their school, and the passion and adoration for the game of cricket, entwines and combines to morph in to these majestic fairy tale events called big matches. The class of the Trinity-Anthony's, the flair of the DS-Mahanama, the camaradarie of the Richmond-Mahinda, the pure quality of the Joe-Pete, the unparalleled brotherhood of the Ananda-Nalanda and the unmatched traditions of the mother of them all; the Royal-Thomian, have all added their own distinct chapters and story-lines in to this massive romance novel of Sri Lankan schools cricket. At times, it is far greater than that of the international level game, and definitely more endearing and closer to the heart of the Sri Lankan cricket fan.
Royal move on to a commanding score, beyond 150 for the loss of 3, with the aid of Geeshanth and his deputy Thiran Dhanapala. But these games are valued far beyond just scores and results. This is the first real taste for these cricketers of competitive cricket at a level when there are more than just your coaches and parents watching. When the expectations are not just in the dressing room and and at the dining table. When the pundits and experts aren't just old coaches, and past cricketers, but also 12 year olds with flags taller than their own height, and old boys with attitude and "glorious pasts". This is their first taste of the passion of spectators for the game they play.
And now with their names, and their performances, their repertoire of shots while batting and artillery of variations while bowling, all available to anyone who wishes to tune in via a live stream, the love story of schools cricket in Sri Lanka has begun a new chapter. And it is one that promises a whole lot to look forward to.

Specially to those who's hearts are so near, yet the eyes so far.
Cheers.
Kumma